Dental Cleaner DTC Economy
The conventional manual cleaning of dental trays and retention plates is extremely labour intensive. Wassermann's full automatic DTC Economy does the same job in a few moments.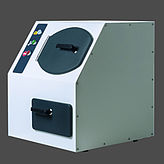 NEW: 831999
Downloads
Links
Range of application:
The cleaner is able to clean 25 dental trays in 2 minutes and 50 retention plates within 1 minute, without preparation, just using tap water. The dental trays including imprint of alginate or silicon's as well as the retention plates with gypsum can be placed into the drum. No need to worry about a thing, you can focus on your core activities.
Major features at a glance:
Pressure cleaning unit for perfectly cleaned metal or plastic dental trays and retention plates made of plastic
Time saving: Completely automated cleaning without prepping
Complete removal of residues like alginate, silicone or similar material from impression trays and plaster debris from counter plates
User-friendly operation
Optimal results with just a push of a button
Permanent water supply - simply connect a water line
Quick and easy installation
Sustainable & economical: The system uses only cold water for cleaning without further chemical additives
Cuts the costs for expensive chemicals
Clean wastewater thanks to high quality filtration: Alginate, silicone and plaster debris all collects in a catch tray and does not enter the sewage system
Included in delivery:
Supply line
Supply hose
Discharge hose
Technical Specifications:

Voltage

220–240 V / 50/60 Hz

Power consumption

12 A

Output

2700 W

W x H x D

490 x 575 x 510 mm

Weight

79 kg

Sound level

≤ 70 dB (A)

Water supply

3/4" at the tap, min. Ø 15 mm,
min. 2 bar with a capacity of 10 l/min

Water Consumption

7-8 l/min

Capacity

25 dental trays or 50 retention plates
For spare parts / accessories store: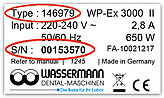 Example of an identification plate at your device
Type = item number
S/N = serial number
The serial number allows us to find quickly without any doubt the correct answers for the needs of your machine. The identification plate is located on the back or right side of your unit.