Dosing and Mixing Unit Sidomix II
A head for the right mixture
Perfect mixture at the press of a button: With the Sidomix II, mixing and dosing of low-viscous, addition cross-linking duplicating silicones is now child's' play.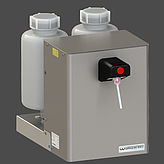 172980
Links
Range of application:
With the simple press of a button the desired components are mixed 1:1 and dosed correctly– fully automatically, totally homogenous and fully bubble free. The innovative mixing head is the secret: Its spatially separated outlet openings prevent the components from mixing – even when attaching and removing the mixing cannulas. Practical in its application: The containers for the A and B components can be attached very simply to the unit with the quick-couplings.
Major features at a glance:
Automatic mixing and dosing unit for low-viscous, addition cross-linking duplicating silicones
Components are mixed and dosed 1:1 at the push of a button, homogenously and bubble free
Material and time saving with loss free filling of several cells with one mixing cannula
Practical adapter with quick coupling for simple attachment of 1 kg and 6 kg casks, support frame available for 6 and 25 kg casks
Mixing head with separate outlet openings – makes mixing of components impossible
High-quality manufacture
WaSil soft, Hardness Shore A: 16-18
WaSil speed, Hardness Shore A: > 24
available as: 1 kg, 6 kg, 25 kg per component A / B
Included in delivery:
Set material cask incl. quick fitting coupling, 2 x 2 liter
Mixing canulas, pink, 10 pcs.
| Technical Specifications: | |
| --- | --- |
| Voltage | 220–240 V / 50/60 Hz |
| Power consumption | 1.6 A |
| Output | 260 W |
| W x H x D (max.) | 275 x 340 x 440 mm |
| W x H x D (housing) | 242 x 305 x 360 mm |
| Weight | 11.5 kg |
| Sound level | ≤ 70 dB (A) |
For spare parts / accessories store: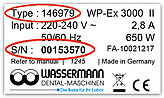 Example of an identification plate at your device
Type = item number
S/N = serial number
The serial number allows us to find quickly without any doubt the correct answers for the needs of your machine. The identification plate is located on the back or right side of your unit.