Steam Cleaner Wasi-Steam Compact
The powerful Wasi-Steam Compact is a reliable steam cleaner with a wide range of application. This steam cleaner is one of the most powerful units on the market.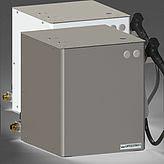 NEW: 174994
Links
Range of application:
Thorough and efficient it is suitable for all cleaning jobs in the lab. Its high cleaning pressure of up to 6 bar also guarantees a high cleaning temperature.
Major features at a glance:
Powerful and reliable steam cleaner, suitable for all cleaning jobs in the lab
Steam pressure 5 bar at rest/ 6 bar in operation
Protects seals by reducing pressure to 5 bar after 10-minute break
Indication and check of operating states by LEDs
Service interval display
Simple operation, high safety standards
Durable, versatile and ecofriendly
Stainless steel housing and boiler
Selector for wet or dry steam
Choice of colour:
174994 #CCVA# Wasi-Steam Compact Stainless Steel
174994 #CCWH# Wasi-Steam Compact Stainless Steel White
Please specify when ordering!
Basic version: Tabletop unit, permanent water supply
Operation with distilled/ softened water is possible and recommended.
NOTE: For labs without a decalcification plant we strongly recommend our water softener Wasi-Clean. The purpose of water softeners is to prevent the formation of limescale deposits caused by water hardness, which results in reduced maintenance costs and long durability.

Optional: Accessory for manual filling
Flexible choice of location
(REF 174430) Fill unit, 5 Liter
W 215 x H 340 x D 240 mm (Fig. 5)
Optional: Accessory to regulate wet steam saturation and steam quantity
(REF 174414) Quantity Control Accessory Set (Fig. 2)
NOTE: Retrofitting is possible, the unit can be upgraded at any time. It would require to retrofit the unit at our factory or at one of our authorized service stations.
Just give us a call.
Included in delivery:
Supply hose, grey, cpl., 1.3 m
Discharge hose, 1.5 m
Hose clip Ø 12-20 x 9
| Technical Specifications: | |
| --- | --- |
| Voltage | 220–240 V / 50/60 Hz |
| Power consumption | 5.5 A (6.3 A medium-blowing-fuse) |
| Output | 1270 W |
| W x H x D max. | 345 x 360 x 390 mm |
| Weight | 19 kg |
| Sound level | ≤ 70 dB (A) |
| Working pressure | max. 6 bar (stand by 5 bar) |
| Steam temperature | max. 164°C at 6 bar |
| Boiler capacity | 3.3 l |
| Safety class | IP 22 |
| Duty | Interrupt operation 5/5 min |
For spare parts / accessories store: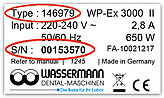 Example of an identification plate at your device
Type = item number
S/N = serial number
The serial number allows us to find quickly without any doubt the correct answers for the needs of your machine. The identification plate is located on the back or right side of your unit.