Fine Blasting Unit Puna II (NEW)
The premium compact class for daily use at laboratories even in the smallest space!
The fine blasting unit Puna II equipped with two full metal chambers enables you to work extremely efficiently and quickly, reliably for years.
NEW: 190885
Downloads
Links
Range of application:
It can be used with all common blasting materials and grain sizes. The blasting material flow is controlled by a foot pedal. In addition to its ergonomic handpieces, the specialist also impresses thanks to its durable blasting hoses and low consumption of blasting material.
Major features at a glance:
Extra compact fine blasting unit for daily use at laboratories even in the smallest space
Precise working pressure of 0.8–6 bar with pressure gauge control
Genuine Wassermann air mix system: Cost savings thanks to noticeable low consumption of blasting material
Comfortably to handle with ergonomically shaped handpieces
Easy foot-controlled operation
Special particularly durable hoses
High hygiene standard because of changeable sleeves
Convenient colour coding system
Easy choise of the desired blasting material by using the selection switch for colour circuit settings
Specially coated safety screen for ideal visibility
Optimum workspace illumination, protected LED lamp
Blasting material tanks made of metal, high quality construction
Designed for long durability
Simple cleaning due to stay-clean surfaces: High quality stainless steel and robust plastic powder coating
Air inlet membrane: If needed cut in the rubber vertically and horizontally to achieve an optimum exhaust air stream into the vent of the connected suction unit
With plug socket (power consumption max. 8 A), e.g. for a suction unit
Connection option for a suction unit: Extractor nozzle Ø 75 mm exterior
Available as accessories:

Extractor nozzle Ø 40 mm exterior (Item no. 143385)
Extractor nozzle Ø 50 mm exterior (Item no. 190286)
Included in delivery:
Compressed air hose (PVC hose Ø 8x6 textile, blue) 2 m
Supply line
Delivered as standard: Supply line 3 core with angle plug (Item no. 592012)
Delivered only on request*: Supply line 3 core US 13 A (Item no. 592011)
*Please just give us a short notice when you place your order.
Puna II incl. 2 fine blasting nozzles, 0.8 (blue), 1.2 (red)
| Technical Specifications: | |
| --- | --- |
| Voltage | 100–240 V / 50/60 Hz |
| Power consumption | 0.2 A |
| Plug socket power consumption max. | 8 A |
| Output | 50 W |
| W x H x D | 384 x 350 x 472 mm |
| Weight | 11 kg |
| Sound level | ≤ 70 dB (A) |
| Tank capacity | 420 cm3 |
| Compressed air connection | 3–6 bar |
| Working pressure | 0.8–6 bar |
| Extractor nozzle | Ø 75 mm exterior |
For spare parts / accessories store: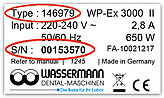 Example of an identification plate at your device
Type = item number
S/N = serial number
The serial number allows us to find quickly without any doubt the correct answers for the needs of your machine. The identification plate is located on the back or right side of your unit.